GDR 100 2023 launches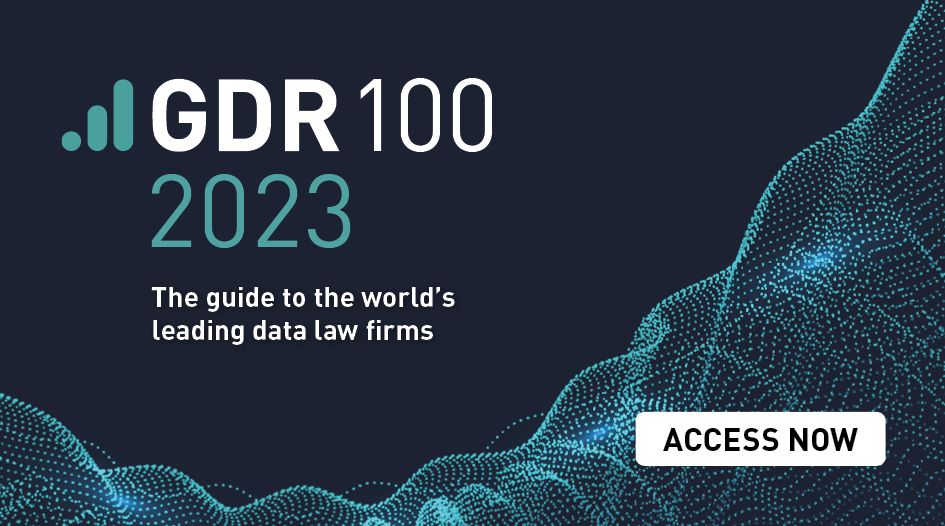 Covington & Burling has topped the first ranked edition of GDR 100's Global Elite.
Launched today, the GDR 100 2023 identifies and profiles the world's best data law firms and consultancies. The GDR 100 is the only global ranking that captures the capabilities, track record and market reputation of the leading firms in the field.
This edition of the survey involved considerably more analysis of the Global Elite band of international law firms that have a stranglehold over the most cutting-edge global data matters.
For the first time, GDR was in a position to generate a ranked list of the top 25 international law firms in the field by comparing eligible firms head to head, and to pull together lists of the top ten law firms for advisory, investigations and litigation work.
GDR has named Covington & Burling as the best data law firm in the world. The firm also came first in the inaugural list of the top ten advisory practices. As is the case for much of the information received by the GDR editorial team, relatively little can be said about the underlying mandates from clients that led to this position. But it's a sign that the toughest work in the world is regularly handed to Covington partners.
"We are thrilled to be ranked first in the GDR 100 Global Elite 2023, recognising Covington for having one of the most cutting-edge privacy and data security practices globally," the firm's practice co-heads Dan Cooper, David Fagan and Lindsey Tonsager say. "We are thankful for our clients who trust us with their most important matters and our remarkable team of privacy and cyber lawyers working across the firm's 13 offices, and really appreciate GDR awarding us this exciting accolade."
GDR has also named Gibson Dunn & Crutcher as the world's best data investigations defence law firm – a well-deserved accolade driven by the amount of business-critical work it undertakes on behalf of blue-chip data-rich companies. Morrison & Foerster took the crown for the world's best litigation firm: it is one of the few firms in the GDR 100 to have a disputes practice that is as strong in the US as it is in various EU countries.
The full list of firms that made it into the GDR 100 – which for the first time also features non-legal consultancies – can be seen here. The team's in-depth analysis of the data received from Global Elite firms, and more details about the methodology that led to the overall ranking and individual top 10s, can be read here.
Congratulations to all that made the list.